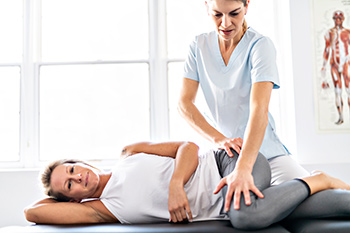 Did you know that educated patients can have better outcomes? Our patient education videos provide information about various medical conditions including anatomy, symptoms, and treatments.
Learn more by watching our rehabilitation videos. This information is for educational purposes only. Consult our highly skilled team of therapists for an in depth physical therapy plan and customized treatment options for your orthopedic injury or joint pain.
Labral Tears of the Hip

ACL Reconstruction Hamstring Method

Back Strengthening Exercises

Neck Strengthening Exercises

Pain Rehabilitation

Hip Rehabilitation

Spinal Decompression Therapy

Spine Rehabilitation

Frozen Shoulder

Shoulder Rehabilitation

Foot and Ankle Rehabilitation

Hand and Wrist Rehabilitation
Disclaimer: All information presented on this page is intended for informational purposes only and not for the purpose of rendering medical advice. The information contained herein is not intended to provide medical advice, diagnose, treat, cure or prevent any disease.